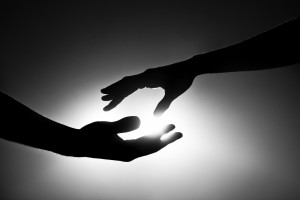 "Following an illness while we were abroad on holiday my son started to 'see and hear a man who wasn't there.'  He was admitted to hospital where he was told there was nothing physically wrong with him so it must be a mental illness.  We were given an emergency referral to a psychiatrist who was (and still is) puzzled, as my son was not showing any other symptom of psychosis or any other mental illness apart from the visions of this man.  Stranger still, this man was with him permanently and it's enough to say that he was not a nice man!  For a year my son has been tormented by this "hallucination" and we were as a family at our wits end.  We sought advice and alternative treatments and were asked to go and see Jacqui and Chris by a therapist, and although we were sceptical (to a huge degree) we went and tried to keep an open mind.
Best move we ever made!  My son had a healing session with Jacqui and Chris and by the end of the session my son was already saying that the man was fading.  We hardly dared hope that this could have been the answer all along, but by the next day he was gone!   We were astounded, shell-shocked, emotional and incredibly grateful.  Our lives have changed beyond belief.  We have our son back and after a year of confusion, fear and worry (not to mention ridiculous amounts of medical appointments, tests and treatments) we are living our lives again as a normal family.
We cannot recommend Jacqui and Chris highly enough, I would sincerely encourage everyone to visit, even if you don't know what you want – Jacqui will tell you what you need.
Vicky from Leamington Spa
~~~~
"When I first went to see Jacqui and Chris it was to ask for help with a shoulder injury. They were amazing and helped me with my shoulder but much more than that, they also helped me on so many other levels.
Being a Chiropractor, I was a bit sceptical as to how it was going to work but the results totally blew me away. I now go and see them about once a month just because it makes me feel so amazingly well. I think everyone should have regular healing. Jacqui and Chris are incredibly talented and gifted and they make you feel so welcome and at ease. I recommend them with all my heart……
Dr Anna Garstin Chiropractor From Leamington Spa
~~~~
 After my Daughter who has suffered a life long condition of ADHD and has attempted suicide. I made the dicission to take her for Spiritual Healing with Jacqui and Chris.This was the best choice i could have made as a Mother, I entrusted my child to the sessions and the results were amazing. She is now in a much better place, I notice the changes daily within my Daughter. She is so much calmer and she's recognizing herself her own emotions and im so pleased to say since doing these sessions my Daughter hasn't made any more attemps to end her life, infact quite the opposite She's loving life right now. I send so much Love to Jacqui and Chris without whom I'm sure this situation would of escalated. I would recommend anyone who is having issues with a child to take that step and entrust your chid to both, you won't regret it…..
Karen Murray  From Leamington Spa
~~~~
 Thankyou to Jacqui and Chris, you've helped me heal from the most overwhelming and debilitating feeling that I've ever experienced.  It was bothering me for years and now has gone…..
Emma From Leamington Spa
~~~~
 Jacqui was recommended to us……and upon meeting her we knew immediately that we had made the right decision to consult her. She gave us a warm welcome and delivered her readings with kindness and compassion and was stunningly accurate in much of what she revealed, which was of much comfort to us. We were very touched by her sincerity, kindness and the love that she exudes and would recommend her special skills……
Dr and Mrs Akbar.
~~~~
Jackie is an amazing, very gifted and special woman and I would highly recommend her. My whole life has changed for the better since having spiritual readings from Jacqui and i have achieved great success and happiness in my life. She always gives you such a warm welcome and makes you feel at ease. She helps and guides so many people in so many different ways, her work is truly fantastic!…..
Nicola Smyth Salon Director From Leamington Spa
~~~~
 Jacqui is a very talented medium…I am the owner of a 31 bedded nursing home. I met Jacqui just over a year ago when I had a reading from her. Jacqui is a very talented medium and her messages have given me a lot of comfort and hope. She mentioned that she also is a trained healer which is something I thought the clients in my nursing home may be able to benefit from. Jacqui visits once a month and offers healing to any clients who request it. She has the ability to help relieve pain, calm and relax clients especially those who are confused, in pain and anxious. We very much look forward to her visits and would definitely recommend her to anyone who may be considering healing ……
Chairman Pugh Orchard House Nursing Home Sutton Colefield
~~~~
 I woke up and could'nt move, I was in absolute agony with my back. I could'nt sit, stand or lie down. I had to wait three day's to see a G.P. who said i had a trapped nerve and muscle spasm's. I was given a cocktail of Diazipam, Naproxen and high strength Co-codamol to take. I made an appointemnt to see Jacqui and Chris two day's later, the car journey was awful and when i got there I was in such pain I could'nt sit down. Jacqui and Chris worked on me and I was very upset due to the severe pain, it took three people to help me move. Two day's later I woke up, no pain, could bend down, move freely, but then again i never expected anyhting less from these two amazing people. I would encourage anyone to go and see them, they are patient, understanding and possess a unique gift. I have had crystal healing, Deep healing and everytime is a miracle. Thank you both from the bottom of my heart……
Sue From Coventry
~~~~
I suffer with frequent headaches and after trying many orthodox forms of medicine, Jacqui offered to help my problem using her healing therapy. After only one session, I felt amazing and my headaches were eased greatly for around six months. I am so pleased with the treatment that I plan to return for another session. I also find the therapy sessions to be relaxing and reassuring as not only is she a super healer but a fantastic medium who brought me my guides to assist me also. A huge thank you to you both at Etheric Energy Healing. You make a great team…….
Catherine Coupe from Evesham 
~~~~
 I would just like to say what a wonderful service both Jacqui and Chris offer. The healing is so powerful you can actually feel it working. This very professional service leaves you feeling very relaxed and is carried out whilst listening to beautiful music.
I have found both Jacqui and Chris very professional and reassuring during the healing and have had some amazing results. I can thoroughly recommend their service. If your lucky you also may receive some messages from loved ones.
Enjoy!…..Pippa Taylor
~~~~
My Healing Journey.
I lay in the dark room searching for a solution. The darkness around me was nothing compared to the deep dark despair engulfing me from within. Then a voice said to me you need Jacqui.
Jacqui? I had met this enchanting woman by chance while with my father. I remembered how I was strangely drawn to her warmth and almost felt I needed to be near her; funny how our instincts can overrule any rational human behaviour. What could this lady do for me? I knew I needed to make the call and this is exactly what I did. Healing, I thought as I put the phone down, what the hell! The appointment was booked and I was willing to try anything.
I had been brought up in a religious family; my early memories of healing were in a church settling. A person would sit at the front of the service and be prayed for while others chanted and lifted their arms in the air. I can't say this was helping my anxieties of what was to come! In more recent years healing had been something very different. I had dedicated my life to nursing sick children. A job I loved, however, the stresses I faced were in part due to my dedication and inability to look after myself. Medicine, many see as prescriptive – drugs, surgery. To me it is far more to do with care and compassion. I know I have a special character and that what I offered families had not been learnt at college however, there was generally an answer within a medical book or your own experience of practice. I still remained apprehensive about what healing was and whether it would work. I felt so awful I just hoped it would help.
The first visit was strange and scary I arrived and breathed deeply; what would occur in the next sixty minutes and would it help. Jacqui and Chris welcomed me and explained what I needed to do – relax! This was not helpful –relax! Relaxing has never been something I have ever done. I felt safe with Jacqui and Chris and I did my best to settle.
Once relaxed I lay on a massage type treatment table, covered with a blanket. Chris and Jacqui worked together and you are encouraged to visualise a good place in your mind and focus on this. My safe place is my Grandmothers 'secret' garden. This was a place that I loved going as a child. I get lost in the flowers, butterflies and the sun shining down on me. I am probably a child again if I thought hard about it. This place is peaceful, safe and I am free from life's stresses and strains. In this first session I could see black almost rushing out and being replaced with bright colours. It is strange to describe in words however, I felt a real sense of relief and freedom. I could feel tingling in my body – almost like shivering but on a much smaller scale and I was not cold. I could feel areas of body that heated up like someone was touching you. At times Jacqui and Chris do place their hands on you however the warmth would remain far longer than their touch. On waking I was surprised as I felt it had been only a few minutes and in actuality I had been having treatment for 40 minutes.
Following the healing I had returned to the light hearted, happy person I had not seen for a long while. I know, this sounds like a load of flowery rubbish – I would have thought the same if someone had been telling me this story; it is very real though and I once again felt free from the rubbish I had been consumed with. My husband was shocked and couldn't believe that the women he loved, was back! I joked and laughed and my impish personality had returned. I no longer felt negative about people and could see things from their perspective, however, no longer make their issues mine.
I of course returned again and again. Each time I become stronger and more accepting of my weaknesses and strengths. My husband also started going and was not disappointed. In the 14 months since I met Jacqui and Chris our lives have changed. We take risks and follow our hearts, confident that we making changes for the better. I no longer put myself last and am conscientious of my own health and when I need help. We are now foster carers; changing the lives of two young children desperately in need of love and affection. We are humbled and feel very honoured to be able to carry out such a role. Our lives have changed forever and we embrace this. We are not held back by others or societies beliefs and even bigger we have taken risks. I feel proud and courageous and am living life to the full. My only regret, I did not know about healing sooner! I continue to nurse and care for others. The NHS utilise healing now and I believe it should be incorporated into more areas of medicine…
Sarah Witham
~~~~
Two stressful career moves and carrying old emotional scars had been the start of  my journey through the last 12 months. Acquiring physical symptoms of limb pain, balance issues and being in the middle of neurology investigations I knew it was time to pay a visit to Jaquis & Chris.
From my first healing session I started a journey of inner calm much the same feeling I got from spring cleaning the house which is I guess exactly what it is. Having now been diagnosed with relapsing remitting Multiple Sclerosis Simply Spiritual will be a big part of my well being continuing to help me "tidy my house".
My limb pain has subsided, sleep patterns are better, diet is settling down, balance problems…..well let's just say I am no longer Bambi on ice. Accepting the diagnosis of multiple sclerosis into my life has been a smooth transition, skipping the usual drama/denial it would normally have conjured up.
Simply spiritual is teaching me how to understand how the healing works and learning how your body deals with energy flow. Learning new skills in how to read your body's energy and listen to its needs rather than fight them is invaluable. Working hand in hand with nutrition, sleep and exercise, healing is such an important part of my wellbeing now. Thank you Simply Spiritual …
Samantha Worrall
~~~~
Jacqui and Chris are such lovely souls. When I visit, I hand myself totally over to them. They make me feel safe. During a treatment I relax and almost sink into the couch. When the treatment is finished I feel lighter, happier and transported away from the daily grind. I feel that a treatment with Jacqui and Chris is like Reiki with extra clouds, stars, the moon and sun and universe added to it.
Belinda
~~~~
I decided to go for healing as I had received an amazing reading from Jacqui and realised that I needed some help. Help with my physical and emotional health. I had experienced endometriosis for 20 years and being sensitive I had also always felt things so deeply.
I now attend healing with Jacqui and Chris every month. This journey of healing has enabled me to find strength to let go of previous trauma, emotions held within my body and develop spiritually.
I can honestly say my sense of self, wellbeing and understanding of life has come on leaps and bounds since attending healing sessions.
Dr Liz Sparks
~~~~
It must be a couple of years now that I've been receiving healing from you. Time certainly does fly!!
It came about when you did a reading for my daughter Claire. Afterwards you asked her to give me a message and to let me know that I would benefit from some healing. I ignored this as I thought I'm fine and don't need this. We then met up with you months after at an event and you hugged us both and told me that I could do with some healing. This must have triggered something as I decided that I would make an appointment and see you.
I was at a point when I was tired and felt my age creeping up on me. I felt lacking in something but not sure what. After my first healing session, a few days later I noticed that I had more energy and those 'old age' aches which I was experiencing seemed to disappear.
I have continued with the healing and I do notice how my energy levels pick up soon after the treatments. I had been suffering a tender foot for a few months, as I had stood on a stone and it had jarred the sole of my foot. When I last saw you I mentioned this and you gave it some healing. I don't know how it happened but after a couple of days I got up in the morning and tenderly put my foot to the ground expecting the ache. There was no discomfort and to this day I've been pain free.
I have experienced healing and it has helped me in a lot of ways. There's a time when you know your health and the way you feel isn't right and before resorting to pills I would certainly recommend healing. As I see it what is there to lose?
Thanks so much Jacqui and Chris for everything.
Carol xx
~~~~
My wife and I were introduced to Jacqui and Chris and a number of their colleagues about a year ago. We had recently purchased an old property and were alerted to the fact that it had (for some years), spirits that remained in trapped in the property.
We were recommended to contact Jacqui. She made many visits and assessed that a clearance could be made. She was wonderful and organised everything.
We now have a peaceful house, free of spirits and all released to the light. The house now feels so different. Full of love.
I would have no hesitation in recommending her to anyone in need of her love, help and guidance on ALL things spiritual. She and her friends are amazing.
Frank Bothwell
Founder
Thomas Franks Ltd
~~~~
I first when for healing on the encouragement of my mum when I was 13 and after a few sessions I saw all the positive work that Jacqui and Chris do. Healing has helped me significantly in becoming the person I am now, it has helped me to become more open to both my inner self and the world around me as well as helping me become more calm and happy. Healing also helped to fix vocal problems I had with my singing voice. I go to healing to try and detox myself of negativity and because it benefits me both mentally and physically. I am now 16 and I know it will always help.
Paige
~~~~
I first met Jacqui at Bedworth Spiritualist Church some years ago and was enthralled from that moment, her warm, caring nature and the health and support she has given me over the years has been tremendous. Last year I was suffering with severe neck issues and having visited hospitals, chiropractics and physiotherapists a friend said why don't you try "healing" with Jacqui and Chris so off I went. Well it was truly amazing. I have been free of neck issues now for some 9 months I do however go for healing once a month not only for the healing but for everything else which it relates to and life is wonderful. I have some very special friends who suffer from "stress" far more than I do and what the healing does for them is overwhelming. Both Jacqui and Chris are caring loving people who really care about their clientel and apart from the healing and the other services they provide it is lovely to go to see them in any event. I would certainly put my life in their hands. I cannot praise them enough as you can see.
So if you are ever down, lost, heartbroken in pain you will come away so uplifted you will think you are flying.
Linda Mowe
~~~~
I suffer with fibromyaliga which I manage but last 9 months diagnosed with polymialgia and I was struggling with pain and fatigue – I was prescribed steriods.
I had seen there Spiritul healing page on facebook and was drawn to it…
I contacted them approx 3 months ago for healing – I am very happy to say fatigue levels have improved massively since treatment with Jacqui and Chris – I have been going for a top up when steriods are reduced to keep levels balanced
My GSD Tyson who is 8 years old suffering with spondylitis and was struggling to move about – he is usually a very active dog. he also has had healing from Jacqui and Chris and has had a dramatic improvement – also mouth tumour reappeared and since the healing treatment has also reduced in size
I have recommend them both to many friends
Susan Turnbull-Ransford
~~~~
Hi Jacqui & Chris
I just wanted to say a massive thank you to you both for all the help you have given me over the last three years.
I've turned up on your doorstep an Emotional wreck, along with more ailments than I care to list, you've worked your magic and sent me home smiling and feeling a hundred percent better. I don't know what you've done but whatever it was I want some more of it!
You're both always so accommodating, welcoming and ready to work for Spirit, it's such a pleasure to come to you for Healing, knowing I will leave feeling brighter and healthier.
There have been times along the way I haven't wanted to carry on living, when it felt like my world had fallen apart, along with my marriage, the sudden Death of a Lovely friend aged just 50, but with the help of you two and the magic you worked on me, I live to face another day feeling stronger each time.
You always helped me to believe in myself and reassured me things would get better and I very grateful to say things have improved.
Thank you both for all the Love and Support you have given me and long may it continue.
I now consider you both to be my beautiful Friends.
Thank you
Lynn
~~~~
I have been receiving healing from Jacqui and Chris for at least two years now. I decided to go for some 'me time' but I realized quite quickly it is was a serious business recieving healing! It was so much more than laying on a couch and relaxing. I suffer with depression and am a slave to my emotions due to hard life experiences. Jacqui and Chris peeled layer after layer from my spirtual self. At times I cried with release. At times I saw the most beautiful colours and a peace like nothing else I have known. I released some painful emotions and the healing filled those voids. It's an ongoing journey that requires commitment and honesty from myself and it isn't a quick fix. It's a choice to change and receive what no other therapy offered and I've tried many over the years!
All I know is from the woman I was when I first started seeing Jacqui and Chris to the woman I am now is different. I see life differently. I feel so much more confident in myself and in tune with myself. In my opinion, I wouldn't of gotten this outlook from daily medication. Jacqui and Chris's treatments changed my life and it's helped me be become a better version of myself. I highly recommend healing with these guys, will change your life, I swear.
Claire Smyth
~~~~
In the summer of 2012 at the age of 52 my whole world was turned upside down, when a routine mammogram detected a cancerous lump in my left breast. The cancer had also spread to the lymph nodes under my left armpit.
My treatment started very quickly:- an operation to remove the cancerous lump and lymph nodes under my armpit, closely followed by 8 cycles of chemotherapy, which in turn was followed by 3 weeks of radiotherapy. I was also given a drug called "Herceptin" every 3weeks until November 2013 , when my treatment at the hospital finished. That November my husband and I had a party to mark his 60th Birthday and the end of my treatment. Life started getting back to normality, and apart from taking the daily drug "Tamoxifen" and my routine appointments at the hospital, I could finally put my cancer worries behind me.
However, in May 2015 this all changed when I started getting pain in my back. I was referred back to the hospital, but they didn't think it was cancer related. Just to be on the safe side theycarranged for me to have a couple of scans. So you can imagine my horror, when I went to get the results from my back, and was told that the cancer was back, it had spread to both of my lungs and was now only "treatable" not "curable". I didn't know how I was going to carry on, and deal with this horrendous news.
My life became a constant schedule of trips to the hospital with one drug after another, and regular scans to see how my tumours were progressing. I found it difficult to deal with the constant worry, and started looking into others ways to deal with my situation. I tried Reiki which I found relaxing, but was looking for something more than that. So whilst browsing the internet one day I came across the site 'Simply Spiritual' and was immediately drawn to it. I read some of the comments people had written about the experience they'd had there, and decided I'd like to give it a try.
I booked my first session in November 2016, and on arriving was warmly met by Jacqui and her partner Chris. We spent sometime chatting before my session, where I was able to explain my situation and how I was feeling. They both understood what I needed and really made me feel at ease. My first healing session with them was amazing, I lay on a bed with a blanket covering me, I closed my eyes and a Jacqui placed her hands on the top of my feet. I felt totally at peace , and my body had a wonderful warmth going through it. When I left that day, I walked out of the building feeling so much lighter as if a huge weight had been lifted from me. I couldn't wait for my next session.
I have now been seeing Jacqui and Chris regularly for nearly 2 years, and although my cancer is still there and always will be, my sessions at 'Simply Spiritual' have helped me to live with my situation.   Jacqui and Chris are always there for me to offer advice as well as healing, and I know that I can call on them whenever I need to. I feel happier in myself , and although I have a ticking time bomb inside me, I am able to live a full and content life.
Julie
~~~~